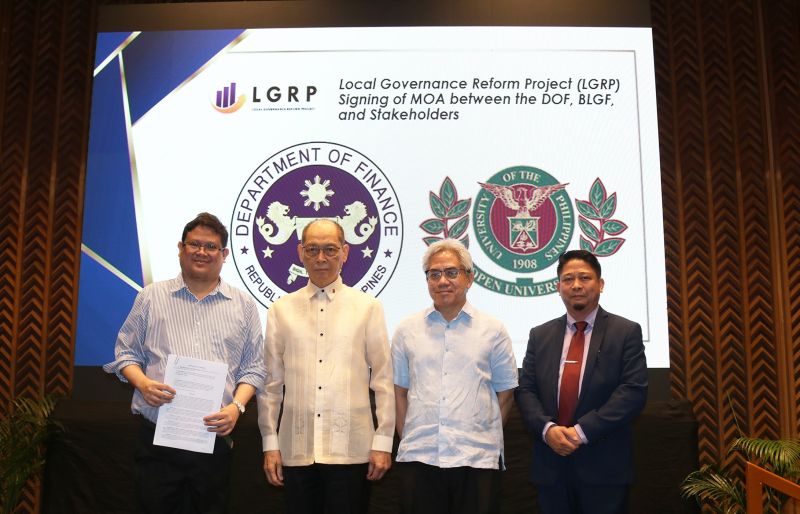 The University of the Philippines Open University (UPOU) engaged in the inking of an agreement with the Department of Finance – Bureau of Local Government Finances (DOF – BLGF) last 11 May 2023 at the Philippine International Convention Center (PICC). UPOU was represented by Vice Chancellor for Academic Affairs (VCAA) Dr. Primo G. Garcia and Faculty of Management and Development Studies (FMDS) Program Chair of  Diploma in/ Master of Land Valuation and Management, Asst. Prof. Cesar Z. Luna.
The aim of the project is to maximize the use of technology to provide accurate property valuation by the local government units which would later ease the taxation procedures of properties. Also, it would enhance the traditional property valuation process in the Philippines through the development of Real Property Information System (RPIS) as well as the Computer Aided Mass Appraisal (CAMA) with Geographic Information System (GIS).
An identified number of local government units (LGUs) will trailblaze the use of RPIS and CAMA with GIS to fast-track and solidify improvements on the said systems. Further, several leaders from the LGUs expressed their utmost support for this current venture on technological advancement.
Moreover, DOF Secretary Hon. Benjamin Diokno emphasized during the event that the core of this project is to elevate local government processes through the concepts of accountability, transparency, and efficiency to promote just and equitable taxation. 
UPOU's role in this partnership is to equip the land assessors through capacity building and professional development through international twinning arrangements and faculty development. The University is also willing to lend a hand through its equipment, training facilities, and accommodation. 
Written by Nikhaela Valenciano ♦ Edited by Margaret Jarmin-Suarez