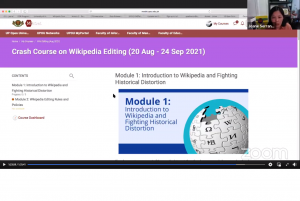 The University of the Philippines Open University (UPOU) in collaboration with the Human Rights Violations Victims Memorial Commission (HRVVMC) and the Bantayog ng mga Bayani Foundation  launched a free online course on Wikipedia Editing and Fighting Historical Distortion on 20 August 2021 from 4:00 PM to 5:30 PM via Zoom. Aside from the launch of the online course, a Webinar on Online Databases for Research on the Martial Law Period: Preliminary Session was also organized by the HRVVMC. 
Titled "Crash Course on Wikipedia Editing," this online course is part of the  2021 Martial Law Wikipedia Edit-a-thon project of the HRVVMC. Mr. Carmelo Victor Crisanto, Executive Director of HRVVMC, delivered the opening remarks. He stated that only 30 to 50 percent of Filipinos are concerned with Wikipedia. He further said that Wikipedia is important, especially during this time of pandemic, because millions of textbooks on the Martial Law era are not being given to schoolchildren, so they rely on Wikipedia for information. Despite the fact that becoming a Wikipedia editor is challenging, he encouraged everyone to take part in the training course to fight the army of trolls who try to revise Philippine history.
The resource persons for the webinar were Mr. Miguel Pablo Reyes and Mr. Joel Ariate Jr. from the UP Third World Studies Center-Marcos Regime Research Group. The speakers presented living online sources that could be used in writing about the Philippine Martial Law, which was implemented from 1972 to 1986 by the dictator and former president Ferdinand Marcos. Some examples of the sources they mentioned were the We Forum, Foreign Broadcast Information Service (archive.org and catalog.hathitrust.org), The Philippine Signs (bantayog.org), Japan Center for Asian Historical Records (jacar.go.jp), Discover U.S. Government Information (govinfo.gov) among others. The recorded webinar will become a supplementary resource of the online course on Wikipedia Editing and Fighting Historical Distortions. 
After the webinar, to introduce the online platform used for the course, a short video presentation about UPOU's Massive Open Distance eLearning (MODeL) platform was shown. Dr. Joane Serrano, Director of the UPOU Office of Public Affairs and Office of Gender Concerns, then provided an overview of the Wiki Editing and Fighting Historical Distortions online course. According to Dr. Serrano, the Crash Course on Wikipedia Editing course site, contains the following: a) online modules  – which is about the introduction to Wikipedia and fighting historical distortion, b) learner analysis – to know how the participants access online platforms and their basic knowledge on Wikipedia and Wikipedia editing, c) forums and learning activities, d) course guides, e) video lessons, and f) other resource materials for the topics. She also said that after finishing Module 1 of the course, the remaining modules will be opened.
Ms. Joanna Mae Delos Reyes from HRVVMC served as the host. The event was held via Zoom and streamed live via the HRVVMC's Facebook Page, where it can also be re-watched.