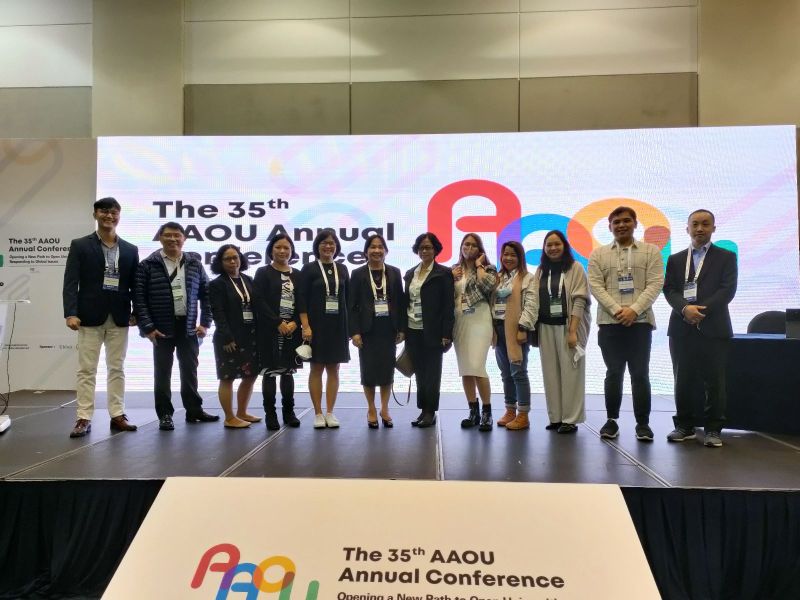 The University of the Philippines Open University (UPOU) participated in the 35th Asian Association of Open Universities (AAOU) Annual Conference held at the International Convention Center in Jeju, South Korea on 2-4 November 2022.
The conference was hosted by the Korea National Open University (KNOU).  AAOU 2022 carried the theme "Opening a New Path to Open Universities: Responding to Global Issues," focusing on the six areas: the roles in the society, assessment, human resources developments, student support services, and the relationship with the sustainable development goals (SDGs).  
Dr. Melinda dela Peña Bandalaria, UPOU Chancellor and Professor, headed the UPOU delegation which is comprised of the faculty and staff members who presented research papers on topics such as influence of centrality, gamification, human resource development, psychosocial support protocol, augmented reality, and virtual tours, among others.  Prof. Bandalaria was one of the keynote speakers in the Plenary Session and among the distinguished presenters in the Special Sessions of the Conference.
The UPOU Chancellor tackled the significance of massive open online courses (MOOCs) during her discussion on MOOCs in Asian Higher Education.  She underscored the importance of partnerships and collaboration among the AAOU member institutions, and shared her insights and expertise on research and other related initiatives in the open distance education modality when she presented the AAOU Collaborative Research Project.  Dr. Bandalaria, together with Dr. Myra Almodiel and Ms. Margaret Jarmin-Suarez, discussed the International Council for Open and Distance Education (ICDE) Global Advocacy Campaign and enjoined everyone to take part in the advocacy to be inclusive and respectful to the diversity of all regions in order to engage all ICDE members and partners.  
The AAOU is a non-profit organization of higher learning institutions that are primarily concerned with open and distance education.  The conference provides a venue for keeping everyone informed on issues, ideas, and developments in the field of open distance learning.  Dr. Bandalaria served as AAOU President from 2017 to 2019 and currently holds the designation as Member of the AAOU Executive Committee.  
For more information, you may access the websites of AAOU and 35th AAOU Annual Conference.
Written by Jaime O. Guimbao
Edited by Myra C. Almodiel and Anna Cañas-Llamas