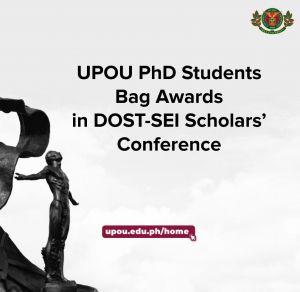 Three University of the Philippines Open University (UPOU)  students bag several awards in the 7th National Research Conference in Science and Mathematics Education (NRCSME) held by the Department of Science and Technology-Science Education Institute (DOST-SEI). This event was held virtually on 10-12 November 2021 in collaboration with the National Consortium in Graduate Science and Mathematics Education (NCGSME).
The theme of the conference is "SME Innovations: Teaching for Diversity and Equity in the New Normal" which tackles issues regarding the sudden shift to digital learning and teaching in the new normal in the light of the COVID-19 pandemic. The 3-day event had about 1000 participants from the NCGSME member-universities wherein parallel oral presentation sessions    and posters sessions featuring the scholars' researches were held.  
Among the winners of the research presentations are UPOU Students Jonathan M. Barcelo, Arman DC Santos and Apler J. Bansiong. In the Parallel Session categories, these scholars presented their individual research presentations which are also part of their thesis dissertations in their PhD studies in UPOU. 
Arman DC. Santos won 1st place in the Parallel Session 2 (PS2) category with the research presentation on the "Development  and Validation of Scouts Mathventures; A Mobile Application Screening Tool for Dyscalculic Tendencies." Jonathan M. Barcelo won 1st place in the Parallel Session 7 (PS7) category with the research presentation on the "Effects on Mereology-Based Instruction on Critical Thinking in Chemistry: A Rasch Analysis Approach." Apler J. Bansiong won 2nd place in the Parallel Session 10 (PS10) category with the research presentation on the "Pre-Service Biology Teachers' Exposure, Understanding Attitude, Self-Efficacy, Predisposition, Progressivist Views, and Application of Inquiry-Based Instruction.
All the winners are DOST-SEI scholars in the PhD in Education program at UPOU. DOST-SEI scholar graduates or those who are in the last phase of their dissertation are encouraged to share their research outputs in this yearly scholar's conference. 
UPOU proudly congratulates its students for their success!