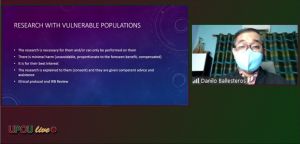 The UP Open University (UPOU) Research and Publication of the Office of the Vice Chancellor for Academic Affairs (OVCAA), together with the UPOU Institutional Research Ethics Committee, conducted its 4th webinar on Research Conversations Series for 2021 with Dr. Dan A. Ballesteros as the resource speaker. Dr. Ballesteros, the Managing Director of Diagnosticare Medical and Diagnostic Center and a pediatrician affiliated with the National Children's Hospital where he is a former Hospital Ethics Committee Chairperson, gave a presentation on "Ethics in Vulnerable Groups" as a research approach. The webinar was viewed on various viewing platforms on 28 June 2022 (Tuesday), 9:00 AM to 11:00 AM (PHT). 
Dr. Primo Garcia, former Dean of the Faculty of Management and Development Studies, and now the Vice Chancellor for Academic Affairs of UPOU, delivered the opening remarks of the webinar.
Dr. Garcia says, "For our studies to be impactful, they do not only need to be relevant and rigorous, they have to be ethical. When done ethically, research can help protect dignity, rights and privacy of our research participants as well as increase the legitimacy of our work. We are glad that UPOU recently worked towards institutionalizing the research ethics review process in the university. Today's webinar is part of UPOU's thrust to further promote values and principles of research ethics in the university and beyond."
Dr. Dan A. Ballesteros focused his discussion on ethical guidelines for vulnerable groups, in which according to the National Bioethics Advisory Commission's Classification of Vulnerability  are 一 Cognitive or Communicative, Institutional or Deferential, Medical, Economic, and Social; as well as elaborated who these vulnerable individuals are in each classification, and shared the possible threats to the individuals under these different categories. Dr. Ballesteros also emphasized the protections necessary for the vulnerable groups being the subject in a research. He stated that, "We must be reminded that the research is really necessary for them and there are no other population groups on which the research can be performed." Dr. Ballesteros also added, "We always balance benefits and risks such that we maximize benefits and, should harm and risk present, they should be proportionate to the forcing benefits. And when we have this harm, there must be a justified compensation." Moreover, he highlighted the importance of ethical guidelines, beneficence, and respect for each individual being a research subject which is based on the value of an informed consent. 
Dr. Ballesteros' last notes on the webinar were, "Research is meant to protect individual patients. All of these are meant to provide a shared responsibility, to know who is accountable, and to minimize liabilities and risks, and to maximize efficiency of our research."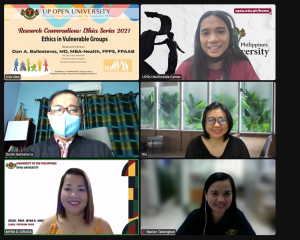 The webinar "Ethics in Vulnerable Groups" was moderated by Assistant Professor Ria Valerie Cabanes, Chair of the UPOU Institutional Research Ethics Committee and Program Chair of the Master of Arts in Nursing at UPOU. Asst. Prof. Cabanes also facilitated the Q&A portion of the webinar wherein she shared some of her insights on the topic. "I believe this is extremely beneficial not only for researchers but also to participants because of the fact that we are not all aware of these different types of vulnerability." Afterwards, Dr. Myra Oruga, Assistant to the Vice Chancellor for Academic Affairs for Research and Publications, delivered a synthesis of the topic discussed and officially concluded the webinar.