The University of the Philippines Open University (UPOU), as a member of the Los Baños Science Community Foundation, Inc.(LBSCFI) and in celebration of the National Science and Technology Week (NSTW), participated in the "KaSYENSAYAhan sa CALABARZON" held at the UP Los Baños Baker Hall in Los Baños, Laguna.
The science festival opened on 18 September 2023 in a ribbon-cutting ceremony led by the Regional Director of the Department of Science and Technology (DOST)-CALABARZON, Dir. Emelita S. Bagsit, and the President of LBSCFI, UPOU Chancellor Melinda dela Peña Bandalaria.
"KaSYENSAYAhan sa CALABARZON" is a fusion of the celebration of the Regional Science and Technology Week and SyenSaya, LBSCFI's version of the Science and Technology Festival. The week-long event showcased various S&T projects and programs of LBSCFI member agencies and the various institutions and colleges of DOST and UP Los Baños. Activities for the festival were streamed through the Facebook Pages of the DOST CALABARZON and Los Baños Science Community Foundation, Inc.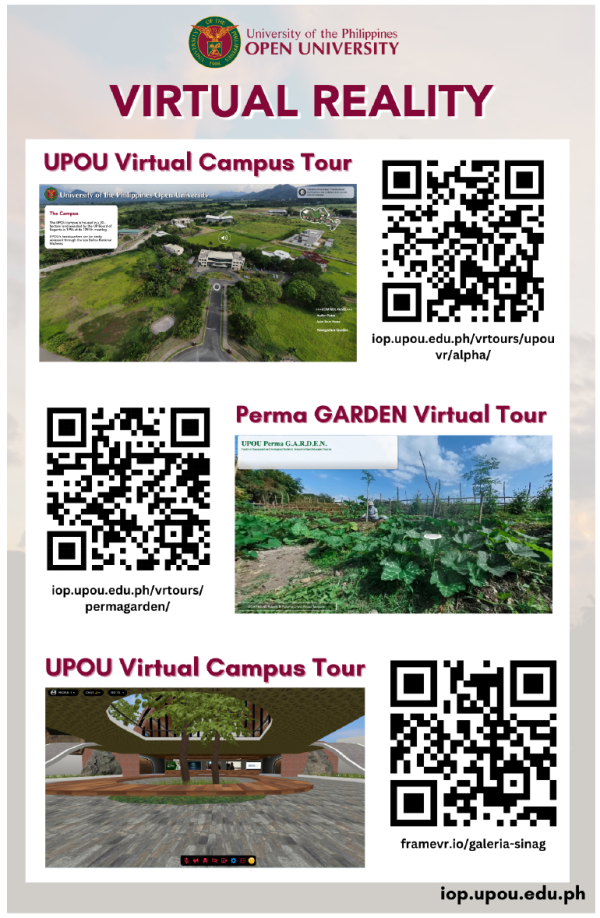 UPOU, in its advocacy towards sustainability and intelligent application of technology, featured three of its Virtual Reality Projects for this festival. The UPOU Virtual Campus Tour (iop.upou.edu.ph/vrtours/upouvr/alpha/) is a project by the UPOU Office of Public Affairs in collaboration with the Open and Digital Learning Research Unit of the UPOU Center for Open and Digital Teaching and Learning. It gives a near-life and 3D experience of the entire UPOU Campus, its offices, and its facilities. The project primarily provides its students and the public the experience of being at the UPOU campus despite not physically being at the location.  The Perma GARDEN Virtual Tour (iop.upou.edu.ph/vrtours/permagarden/) is a virtual walk around the UPOU Perma G.A.R.D.E.N. (Growing Appreciation toward Resilience, Development, Entrepreneurship, and Nutrition). It features information about the crops and their culinary and medicinal uses through hotspots placed around the physical garden and within the virtual realm. Last but not least is the UPOU Galeria Sinag Exhibit (framevr.io/galeria-sinag). While the Galeria Sinag at the UPOU Community Hub is undergoing repair and renovation,  the exhibit is available in the metaverse, and the digital twin of the physical wood carvings are viewable in virtual and 3D versions. 
The Virtual Reality Exhibit by UPOU was made possible through collaboration among the following UPOU Offices: Office of Public Affairs, Office of the Chancellor, Open and Digital Learning Research and Educational Materials Productions Units of the UPOU Center for Open and Digital Teaching and Learning, Faculty of Management and Development Studies, Faculty of Information and Communication Studies, and Information and Communication Technology (ICT) Development Office.  
Written by Anna Cañas-Llamas ♦ Edited by Myra C. Almodiel ♦ Photos by Anna Mhari Duria