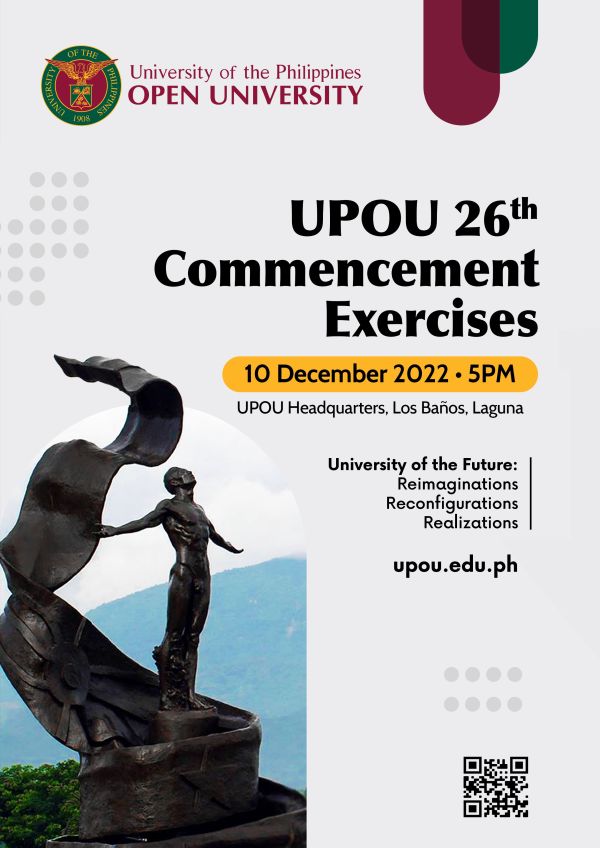 The University of the Philippines Open University (UPOU) will be holding its 26th Commencement Exercises on 10 December 2022, 5:00 p.m. at the UPOU Oblation Plaza with the theme "​​University of the Future: Reimaginations, Reconfigurations, Realizations." 
A total of 534 graduates are expected to attend the Commencement Exercises. Of the 534 graduates, 99 are from the three undergraduate programs; 35 are from the two graduate certificate programs; 216 are from the 12 graduate diploma programs; 165 are from the 10 master's programs; and, 19 graduates are from the two doctoral programs of UPOU.
The Commencement speaker for this year is UP President, Atty. Danilo L. Concepcion. President Concepcion is a member of the UP College of Law faculty where he served as Dean. He also served briefly as the Vice President for Legal Affairs and the UP Bonifacio Global City Campus' Executive Director in former President Pascual's term. Presently, President Concepcion serves with the  Philippine Judicial Academy's Civil Code Committee, the MCLE Governing Board, the Supreme Court's Committee on Bar Matter and Continuing Legal Education, the Pamantasan ng Lungsod ng Valenzuela's Board of Regents, and the Philippine Association of Law Schools. 
On 9 December 2022, the day before the Commencement Exercises, Recognition Programs of the three Faculty of Studies will be held — Faculty of Education, the Faculty of Information and Communication Studies, and the Faculty of Management and Development Studies. Students who fared well academically will be given certificates and medals for their outstanding academic performances. 
Moreover, a Ceremonial March will be held at 9:00 a.m. on 10 December 2022, as a tribute to the graduates of AY 2019-2020 and AY 2020-2021. 
Both events will be streamed live via the UPOU Networks Website, the UPOU Website and the UPOU Facebook Page.