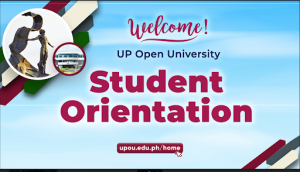 The University of the Philippines Open University (UPOU) Office of Student Affairs (OSA) is spearheading the UPOU Virtual Student Orientation 2021. The event will premiere on UPOU's official Facebook Page and the UPOU Website on 11 October 2021, Monday, 10:00 AM PhT.  
All new UPOU students for this academic year are encouraged to watch the virtual event. The orientation will provide the necessary information for studying via open and distance elearning (ODeL) at UPOU. This will also allow students to be able to navigate through the adjustments of online learning more smoothly, as well as know where to seek assistance when needed. 
Since its establishment in 2018, UPOU OSA has spearheaded the orientation for UPOU students every start of the school year. This is done in coordination with the Office of Public Affairs (OPA), Multimedia Center (MC),  and with the help of other UPOU offices. Since UPOU students are based all over the country and the world, orientations are always made available online, even when on-campus events are held at the UPOU headquarters in Los Baños, Laguna. Videos of previous orientation programs are available on UPOU Networks, UPOU's repository of open educational resources.
The UPOU Faculty Offices — Faculty of Education, Faculty of Information and Communication Studies and Faculty of Management and Development Studies —  also conduct orientation for students under specific UPOU programs. Separate invitations are sent to individual students for program orientations.
Written by Anna Cañas-Llamas
Edited by Yaselle M. Yambao