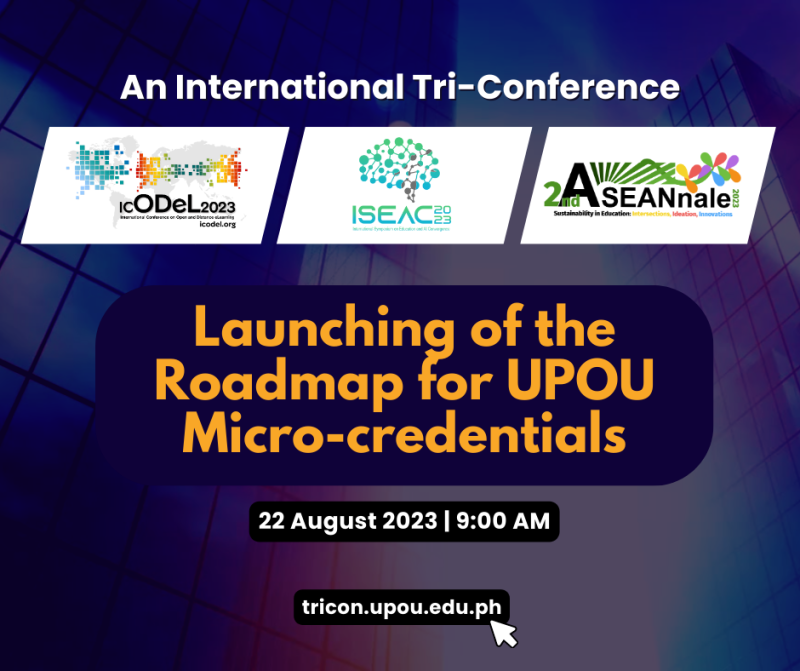 The University of the Philippines Open University (UPOU) will launch the Roadmap for UPOU Microcredentials during the Opening Program of the UPOU-organized Tri-conference 2023 on 22 August 2023, at 9:00 AM. This will be held at the UPOU Centennial Center for Digital Learning (CCDL) Auditorium at its Headquarters in Los Baños, Laguna, and online. 
With the increasing demand for specialized competencies in today's job market, individuals are actively seeking short courses and certifications to acquire specific skills and knowledge that can advance their careers. Embracing this global trend, the University of the Philippines Open University (UPOU) envisions itself as a key player in equipping Filipino professionals through lifelong learning.
Through micro-credentialing, UPOU hopes to contribute to bridging the gap between the academic goals of students and the skills and abilities required in their fields. According to the Roadmap, micro-credentials "focuses on validating competency-based knowledge, outputs or skill using trustworthy assessments and open standards to improve graduates' employability prospects." At UPOU, a micro-credential is proof that attests to a person's knowledge and skill in a particular subject area. It is relevant, focused, assessment-based, portable, flexible, and QA-based. The Roadmap also specifies the various types of UPOU micro-credentials, including stackability, purpose, delivery format, and level of qualification. In addition, it also discusses the relationship between micro-credentials and massive open online courses, which UPOU has been offering since 2015.
The Roadmap for UPOU Microcredentials will serve as the university's guide in the institution and implementation of micro-credential courses – from development, evaluation, review and approval, delivery, delivery platform, administration, assessment, and awarding of certificates. It also outlines the details of crediting UPOU micro-credentials towards formal courses. 
Before the formal launch of this Roadmap, UPOU will be holding a special Pre-conference Session for the 5th International Conference on Open and Distance eLearning (ICODEL 2023) on 21 August 2023, dedicated to tackling the various facets of Microcredentials. This session is open for only a limited number of participants and is on a first-come, first-served basis. This session is part of the Tri-conference organized by UPOU in collaboration with the Southeast Asian Regional Center for Graduate Study and Research in Agriculture (SEARCA), UPOU Foundation, Inc. (UPOUFI), and the Philippine Society for Distance Learning (PSDL). The Tri-conference 2023  includes the ICODEL 2023, International Symposium on Education and AI Convergence (ISEAC 2023), and the ASEANnale, which all share the same theme: Sustainability in Education: Intersections, Ideation, Innovations.
This hybrid three-conference-in-one will be held from 21 to 25 August 2023 at the UPOU Headquarters in Los Baños, Laguna, and online.
Written by Anna Cañas-Llamas ♦ Edited by Myra Almodiel