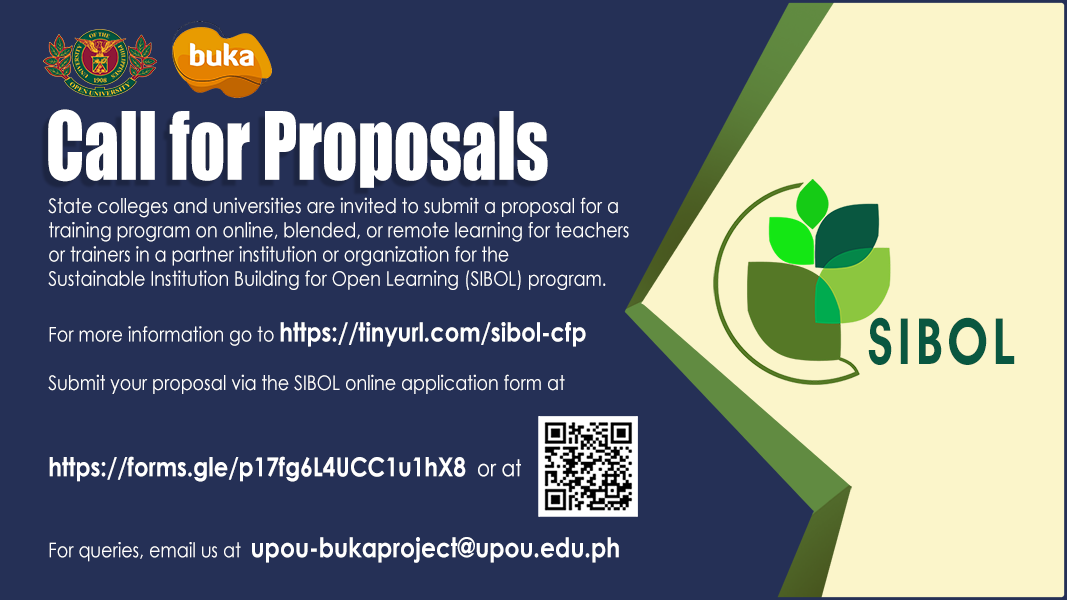 The UP Open University has launched the Sustainable Institution Building for Open Learning (SIBOL) program to provide mentoring and technical support to state colleges and universities (SUCs) that are interested in offering — as a public service — a teacher training program in online, blended, or remote learning for a partner institution or organization. 
Interested SUCs are invited to view the details of the call for proposals and submit a proposal using the SIBOL online form available at the SIBOL website.
SIBOL is UPOU's program under the European Union-funded "Advancing Equity and Access to Higher Education through Open and Distance Learning" or BUKA project. It aims to build a network of institutions that shall form the core of zonal open and distance learning centers in the Philippines.

UP celebrates its 113th founding anniversary today and its second during the pandemic. Take a look back at the year that was, and watch the tribute video to UP here.
Read more here: up.edu.ph/up-celebrates-113th-anniversary-and-2nd-anniversary-during-the-covid-19-pandemic/
Music by Johnoy Danao via www.youtube.com/user/johnoydanao
...

See More

See Less
Join us via Zoom by registering here: http://networks.upou.edu.ph/phefreg/

Watch the live stream through this link:
http://networks.upou.edu.ph/phef/.

Certificates will be given to those who will register and complete the evaluation after the event. #UPOpenUniversity #UniversityOfTheFuture
All @UPOpenU online sites will undergo maintenance on 19 to 20 June 2021. Please be advised that the UPOU websites, MyPortal, UPOU Helpdesk and other sites under https://upou.edu.ph may not be accessible during this time.

For inquiries, please email inquiries@upou.edu.ph.
OPEN Talk Episode 8: Media Literacy: Iwasan Maging Biktima ng Fake News https://fb.watch/69xQmT0aWY/ via @FacebookWatch