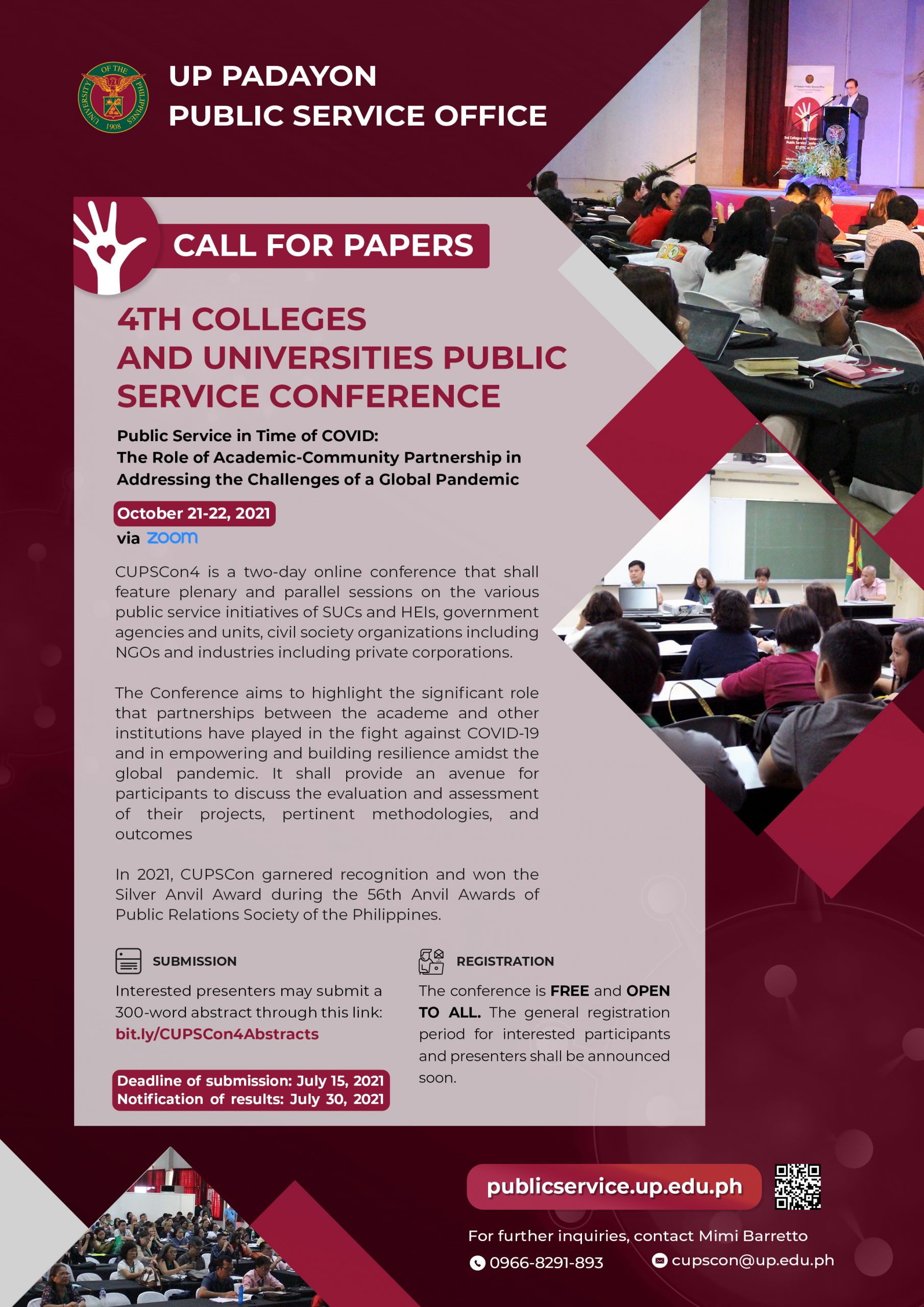 The University of the Philippines, through the Padayon Public Service Office of the Office of the Vice President for Public Affairs (OVPPA), will host the 4th Colleges and Universities Public Service Conference (CUPSCon 4) on 21-22 October 2021 via Zoom.
Continuing its tradition of excellence for its fourth installment with the theme, Public Service in Time of COVID: The Role of Academic-Community Partnership in Addressing the Challenges of a Global Pandemic, the Conference aims to highlight the significant role that partnerships between the academe and other institutions have played in the fight against COVID-19 and in empowering and building resilience amidst the global pandemic. In doing so, CUPSCon aims to expand its horizon by showcasing the myriad of engagements that the academe undertakes with various sectors such as the government, civil society, communities and industries in its delivery of public service. In 2021, CUPSCon garnered recognition and won the Silver Anvil Award during the 56th Anvil Awards of Public Relations Society of the Philippines. The said award represents high standards met by the UP program in the category "public relations programs carried out on a sustained basis" for urban or rural community development.
UPOU faculty members, research staff, and students are invited to participate by presenting your public service initiatives. The conference is free and open to the public inclusive of the online program of the conference and e-certificates.
Click on the link for the Call for Papers for your reference.
For further inquiries, you may contact Ms.  Mimi Barretto via email at cupscon@up.edu.ph, or through phone at 09668291893.