The 2nd round of the UPOU OVCAA Research Conversation on Open Science scheduled on 23 September 2022 will not push through due to unforeseen circumstances.  Our apologies for the inconvenience this may have caused. We will be announcing soon the re-scheduled date and time. Thank you for your usual support.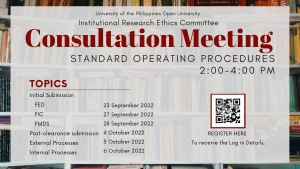 IN PHOTOS: Pre-graduation activities were held yesterday, 9 December 2022 at the UP Open University (UPOU) Headquarters, Los Baños Laguna
The three Faculty of Studies held their respective recognition programs; New UPOU Alumni Foundation, Inc. (UPOUAFI) Chapter officers were elected; and a Cultural Presentation was held as a tribute to the graduands.
#upougraduation2022
#Sablay2022
...

See More

See Less
Less than a week left before #UPOUGraduation2022!

On Saturday, 10 December 2022, the UP Open University (UPOU) resumes its FACE-TO-FACE Graduation with the theme "University of the Future: Reimaginations, Reconfigurations, Realizations".
4
The NCODeL officially commenced on 23 November 2022. This year's theme "Reimagining Education Futures" promotes how Open and Distance eLearning can reshape the future of education. The conference aims to cover all aspects and components of ODeL.
https://www.upou.edu.ph/news/ncodel-2022-conference-proper-commences/
2
#NEWS: As an opening salvo for the upcoming 7th National Conference on Open and Distance e-Learning (NCODeL), two pre-conference workshops were held on 22 November 2022 to prepare several teacher-participants for the conference.

Read more: https://www.upou.edu.ph/news/7th-ncodel-kickstarts-with-pre-conference-workshops-in-distance-learning/