Calling all Isko at Iska: Please check your UP alumni email account and participate in the first ever UP Alumni Survey!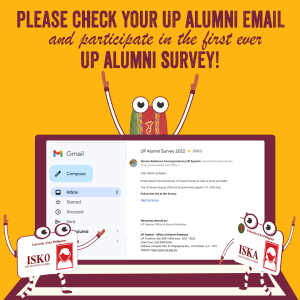 We would like to hear how you are doing and how your UP education has helped in your life and career so far.  Your answers will be used as important feedback to improve our degree programs.
Stay Connected with UP!

LOOK: As the University of the Philippines prepares to administer the UP College Admission Test (UPCAT) for the first time since 2020, UP campuses and units have released helpful announcements, traffic rerouting schemes, and reminders for our UPCAT-takers who will be taking the test in the UP campuses.
Here are some tips for those who will be taking the #UPCAT2024 tomorrow, June 3, and on Sunday, June 4.
Read more here: up.edu.ph/up-college-admission-test-upcat-2024-tips/
...

See More

See Less