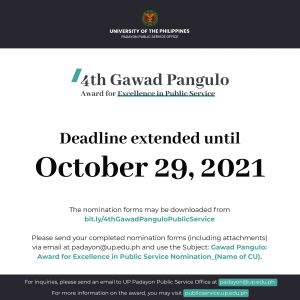 The UP Padayon Public Service Office will be accepting Nominations for the Fourth Gawad Pangulo: Award for Excellence in Public Service until 29 October 2021.
Colleges, departments, institutes, and other units in UP are enjoined to submit their nominations by accomplishing the nomination form with the appropriate documentary attachments. Public service initiatives that have been implemented from March 1, 2020 until July 31, 2021, with substantive outputs based on the stated objectives and outcomes, may be nominated. The nomination package, consisting of the award guidelines, selection criteria, and nomination form, may be downloaded at 
bit.ly/4thGawadPanguloPublicService
.